Rafael Young has won gold in the latest Greenbank Individuals Competition. He also won bronze in the Boccia Athlete Academy competition after being beaten only by a member of the England squad. We wish him luck as he continues to improve. 
Stockport Boccia Ramp Team
The
newly formed Stockport Boccia "rampers" team came out with a medal at the inaugral Merseyside BC3 competition. Well done Guys! 
Rafael Young has been accepted into the Boccia England Athlete Academy, an elite group of Boccia players who train together in regular training days and share tips and tricks. Congratulations Raf for the improvement you have shown in part due to the Academy. Good luck in the Heathcoat Cup National final. 


Most Improved Player Trop

​​

hy (2017)
​​
Congratulations are due to Rafael Young who has been awarded a most improved player trophy in recognition of an amazing improvement in play shown over the last few months in part due to a new ramp and academy training sessions.  
Stockport Tigers Win

Greenbank Team Boccia Championships 2017
​

On the 15th January teams from Stockport competed in the Greenbank Team Boccia Championships.
Well Done Stockport Dynamos for reaching the Semi Finals.


Stockport Tigers were the champions of the day coming first and winning the cup in a very competitive day of boccia.

Well Done Stockport Tigers on an amazing result.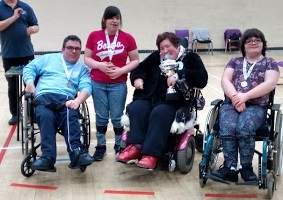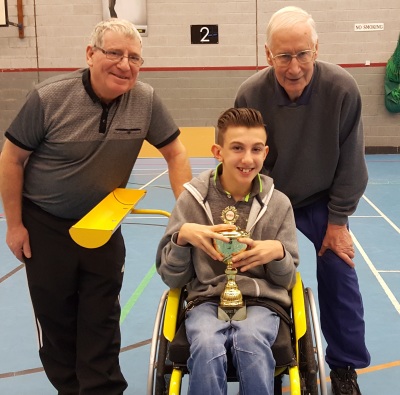 Jake Smith Wins Club Title 2016

Jake Smith has won the inaugural club championship title.

Over a period of weeks everyone in the club competed in a series of leagues leading to a knockout final. 
Congratulations to Jake on becoming the first club champion.

Juniors Retain Cheshire County Schools Title 

On the 8th December, playing for their school Hebden Green,
Jake Smith
Marcus McBriar
and William Radford 
have retained their Cheshire County title in the annual Lords Taverners Schools Boccia competition.

Facing stiff opposition from other winners of local heats the team delivered convincing victories and now move onto the regional heats.
Medal Haul from Merseyside Open
Stockport players had a busy time at the Merseyside Open Boccia Championships on 2nd October 2016! the club was well represented with eight club members playing and returned with an excellent haul of medals:- 

Caroline Robinson (Silver, BC1),

Chris Oswin (Silver, BC2),

and Gareth Stafford (Silver, BC3). 
Well done to all who took part!
Stockport Win Choices Competition
Congratulations to the Stockport A team for victory in the Choices team competition held at Greenbank Academy  on the 17th July
The Stockport A team triumphed over a field of  75 players in 20 teams from across the country, finally defeating the Leics/East
​Midlands team in the final with a score of 4-2.
Medals from Open Singles Boccia Championships
A number of the players from Stockport participated in the 
Open Singles Boccia Championships at Greenbank Academy in Liverpool on 20th March 2016.
The club as a whole did well against a high standard of opponents winning the following medals:
BC1 -

Gold

- Caroline Robinson
BC2 - Silver - Jake Smith
BC3 -

Gold

- Gareth Stafford
Stockport Juniors Win Lords Taverners Regional Heat
Jake  Smith, Marcus McBriar and William Radford have won the North West Regional heat for the Lords Taverners Schools Championship, representing their school Hebden Green.
The Lord's Taverners U19 National Boccia Championships is a schools competition for young people with a physical disability.
Having won local and County heats previously the team went up against school teams from across the North West region.
As Regional Champions they will now progress to the National final in May.